Couples Therapy, Getting Back Together or Boldly Moving On
Dear Diamond Girl,
Navigating heartbreak and breakups in your Feminine Energy can be extremely tricky. When is it time to seek couples therapy, take action, and when should you "accepts a man's no" an boldly move on?
Thanks to a Listeners Question, I answer these questions, and more, in my latest podcast episode #66.
---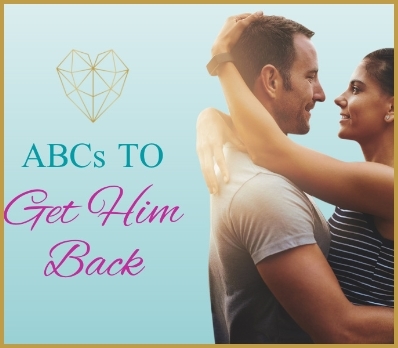 How to Get Your Ex Back – Even If It's Months Later, If you Broke Up With Him, or He's Already Moved On
Experienced a breakup? You either want a second chance with the man you love ❤️ -or- you want to mend your broken heart 💔 and boldly move on to find true love.
Reconnect and rebuild with the man you love 💑 with my proven "ABCs to Get Him Back" program. (See testimonials here!)
My proven ABCs program guides you through:
Reconnecting with your ex after a breakup,
How to rebuild YOU and your rich, juicy, full life,
How to Call Forth your Forever Man with changes and growth that sustain lasting love.
Here's why the ABCs to Get Him Back works:
Your emotions may feel all over the place 😓 – I show you how to feel confident, in control, and optimistic about the future 🌟
Learn why "No Contact" doesn't bring healthy results & reconnect in a powerful way that rebuilds a loving connection 💞
Know exactly what to do and say – so the two of you can rebuild 💬
How Social Media can work for your advantage! No more stalking 🙂
Gain acceptance and compassion for where you both are in this process ❤️‍🩹
A complete Get Him Back Roadmap that walks you through the Breakup to Getting Back Together with your Ex 🗺️
How to grieve, learn and move on from the former relationship and boldly step into the future 🚀
PROVEN Hail Mary Pass instructions on reaching out to your ex 🙏
Where to go next with your guy after you've made contact & MUCH MORE 📚
The ABCs offer you expert coaching, empowering you with self-growth and hidden opportunities the breakup brings 💪
Your love story can be reignited. Rewrite your future and learn the proven path to getting him back or calling forth the man you're meant to be with 💑.
A breakup can actually be a GOOD thing! I tell you how and why.
Don't let your love slip away in fear, sadness, and remorse; act now to rebuild your relationship – starting with the lovely, amazing YOU 🌹.