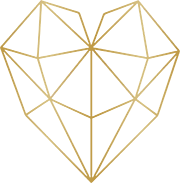 How Feminine Energy Can
capture his heart
Sign up below, get your FREE GIFT and begin your own happily ever after story.
FREE Podcast Gift
It's time to practice your Feminine Energy tools.
Discover 100 Places to Meet Men & Receive Arrows
Let me show you how to change your relationship with men by first reevaluating your relationship with lovely, amazing you.
View hundreds of testimonials.
Whether you've never been married, are enduring your second divorce or wanting to rebuild with your man, the first step begins with YOU.
Your Relationship Can Be Saved & Feel Wonderful Again!
You don't need to lose yourself and forgo your boundaries to attract & keep a loving relationship.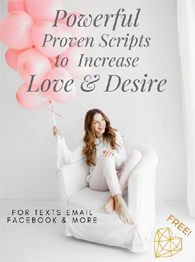 Learn the feminine energy tools that turn you into a man magnet and make you irresistible. Don't let another precious day go by as your relationship falls to the wayside.
Here's my story, and how it can help you.
In my 30s, I thought I had all the tools to make a lasting marriage with my first husband.
We loved one another dearly but despite countless therapists and self-help books, we seemed to only grow further apart.
After couples counseling we seemed to argue only more. We loved one another dearly, yet exhausted we collapsed into each others arms and tearfully decided to filed for separation.
While separated, a new man, let's call him, "the artist," swept me off my feet and LOVE BOMBED me.
I felt at last I had found true love! He talked of marriage, was by my side constantly and gave me endless affection. My hard-working husband never had time for me. Yet I was so 'loved starved' I could not see what was happening to me.
I was losing myself into the artists life. I was grieving my lost marriage and the artist would only shame me and threaten to leave. A few times he disappeared on me for 2 weeks at a time. He would not answer my calls or texts. I was frantic and depressed, blaming myself and scraping up any 'crumb' of affection he tossed my way.
Then the artist would reappear and smother me with love and happily-ever-after dreams again. It was a roller-coaster of emotions. This is also known as hot-cold behavior, rubber-banding or crumb-tossing. All of these things activate a woman into her masculine energy to FIX the relationship. The threat of repeated abandonment leads to neurosis, depression and a constant state of walking on eggshells.
Nine months later, after the artist pressured me into divorce proceedings and insisted we move my husband's furniture out, he GHOSTED me.
I call him, "the artist," becasue in addition to selling me on his hapless career he conned me out of money, my marriage and much of my life.
The worst is, I allowed it ALL to happen out of a desire for love and FEAR of ABANDONMENT.
Heartbroken and alone, I began to put the pieces of my life together.
This is the point of my life where I began to implement the power of FEMININE ENERGY.
Despite being educated, attractive, well-read in psychology and self-help books, and possessing a genuinely caring and loving heart, I was failing at relationships and love.
I'm happy to announce, I eventually got it right. I'm now happily married to a wonderful and caring man who pursues me every day and loves me dearly. Yet relationship bliss did not happen overnight.
Activating my powerful and natural Feminine Energy took time, discovery and practice. Practicing is KEY!
I healed from divorce, being ghosted and dumped, and dating over age 40, all by practicing my Feminine Energy Mindset Method (FEMM) tools.
I evolved from being a relationship go-getter/fixer who was stuck in her ball-busting masculine energy, to a calm, warm, receptive and alluring feminine energy woman.
My inner boy used to rule me. He/I was a pro at tinkering with men who had emotional, career or commitment problems. I'd focused on flaws instead of opening my heart, receiving, being VULNERABLE and perchance finding REAL LOVE.
For so long my man-picker dial had been set to 'FAMILIAR.' I was attracted to and attracting men who were dysfunctional because that was all I knew. I was clueless about ACCEPTING ARROWS or advancements from men and hadn't yet discovered the power of QUANTUM DATING, which works if you are dating or in a committed relationship!
I now captivate and draw quality men my way, effortlessly. This includes my husband who pursues me daily and loves to make me happy!
My feminine energy is high flying, authentic and of superior quality. All men feel this fascinating energy emanating from me and are drawn towards me, which in turn fuels my Feminine Vibe and my husband's attraction for me.
How do I do this? How have I transformed so many women's lives from unhappy, lonely and insecure to confident, committed, pursued and securely in love?
The turning point for myself (and most likely YOU) resides in the energy you've become most adept at in life.
I was of the mindset, "if you want something, go out and get it." Yet with men and relationships, this was a BIG FAT NO! (Sound familiar?) Primarily, men need to be the pursuer and women the receiver.
My boy energy positively protected me and fueled my life ambitions. Yet in my relationships I created a tough exterior that repelled quality men and attracted the wrong types who enjoyed tearing down a powerful woman or 'challenge.'
Meanwhile my inner GIRL crumbled on the inside.
I learned you don't have to be a doormat, give to get, always look perfect, keep the house spotless and be available for the man. Feminine Energy is about expressing your true heart in a way men really hear. I always thought men didn't want to hear about "emotions." But I was wrong.
This was a big part of unwrapping the mystery of Feminine Energy and creating FEMM. Overgiving, over-functioning and unable to receive, I began my journey toward authentically connecting with a man's heart and my own.
I again entered into therapy. I scoured the Internet for every eBook and relationship recovery program I could find. Every single break-up repair guide and strategic "text your ex back into your life" – I read them all! None of these guides or therapy sessions helped me secure lasting love or feel confident and grounded. I was only getting lessons in manipulation!
Then I began to investigate the differences between masculine and feminine energy in both sexes, and a lightbulb went on. I felt a shift in my body and spirit that was undeniable.
For the first time in my adult life, I felt clear-headed, authentic and grounded as a confident, full-of-feelings woman. Relationships with everyone in my life improved, and I was feeling happy and hopeful! Once consumed with anxiety, I now felt relaxed in my body. My mind (boy energy) was no longer ruling me 24/7.
I quickly began to pull and attract quality men to me – GOOD men would literally appear out of nowhere. My on-again-off-again man began to come closer and seek commitment after breaking up only months prior.
After many breakups and learning along the way, I discovered the key to making love last. No matter if you learning how to date again, are broken-up, separated or pending divorce, Feminine Energy can turn it all around and you can create the lasting, healthy love you desire.
Whether you want to save your relationship, are dating and want commitment or just hoping to pull a quality man your way – you deserve a secure, loving and mature relationship that LASTS! You too can have your man's heart all tied up with NO DOUBTS.
You can use your FEMM tools and powerful New Man Manifesting methods to attract him back (in a way that works!) or call forth the man you're meant to be with.
With my help, you can avoid the mistakes I made and reconnect with your LOVELY and LOVING feminine energy girl so that you can KEEP the love of your life or grow an everlasting love with a new high-quality man. You get to decide!
All in Love,
Adrienne Everheart
Get the Complete "500 Ways to Talk to a Man" or "ABC'S to Get Him Back" and start having the relationship you dream about!
YOU Don't have to make the same mistakes I did.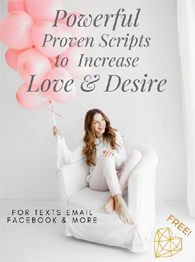 Learn the feminine energy tools that turn you into a man magnet and make you irresistible. Don't let another precious day go by as your relationship falls to the wayside.