Learn how Jen radically altered my coaching path, and discover more about her personal secrets to success in Ep#60 of This Podcast is For Women
Dear Diamond Girl,
I'm a successful feminine energy relationship coach helping millions of women with my self-study programs and Youtube channel in part because of this lady, Jen Sincero.
Jen has changed my life and she's certain to help and encourage you too.
If you didn't know, Jen Sincero is a New York Times best-selling author of her "Badass" book series. She has several "You Are a Badass" books to choose from, and also hosts a private group coaching program.
To be succinct, Jen can motivate you out of your present funk and get you happily on a new path marked with success and wealth. 👛
🎙️You can listen to This Podcast is For Women Ep60 on Spotify, Apple or watch the podcast replay on Youtube.
You see, at one point in my career I floundered as a coach. I wasn't sure how to get my Feminine Energy message and teachings to women. I've since successfully helped thousands of women get engaged, become happily married, avoid divorce, and heal heartbreak.
View hundreds of my testimonials on Instagram!
I did the work to create programs and find the end result I was seeking with "⁠How to be a Badass at Making Money." This book changed how I thought about money, helping women, and creating a life that supported my dreams.
In episode #60, Jen and I discuss the habits she uses daily to get her in alignment with high-flying-vibes to create the life she desires.
🎙️You can listen to this episode on Spotify, Apple or watch the podcast replay on Youtube.
You can join Jen's group coaching program by clicking here: ⁠https://jensincero.com/programs⁠ It starts again in July 2023!
P.S. Please take a moment to SUBSCRIBE, RATE & REVIEW my podcast!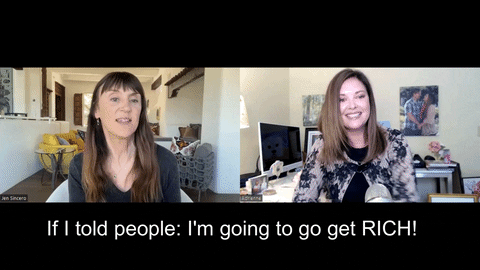 Thank you and see you next week!
xoxo,

P.S. Did you know my Private Group has monthly live classes? Learn more HERE.