Join my LIVE Class & Podcast
Greetings Diamond Girls,
I'm here today to talk about the power of Feminine Energy.
We live in a world where women are discovering the power of their natural Feminine Energy and how it gets overlooked in relationships, especially with men.
If you can join me live tonight, 2/02/23, in my private iHeartLoveAcademy Group, (You get one week free to check it out!) I'll be taking YOUR QUESTIONS LIVE about Feminine Energy and it's role in your relationships. (A replay will be available too!)
---
Podcast wise, this week, I talk about how perfectionism could be zapping your energy and sabotaging your relationship. I also discuss weight loss, setting goals, share relationship advice, and review "Finish" by John Acuff. Listen to: This Podcast is For Women, on Spotify, Apple and lots of other podcast apps.
---
So What Do I Mean By Feminine Energy?
In Feminine Energy, we, as women, are leaning back and observing, we're open to receiving, and we sense what's around us. We are able to go within our body to find ones feelings and words. Feminine Energy can also be seen in a collective sense, where we come together to celebrate each other's diverse gifts and nurture one another's growth.
We all have access to this wonderful energy inside of us. By tapping into it, we can open ourselves up to greater opportunities, creativity, and relationship success.
When's the last time you felt surrounded by Feminine Energy?
That's why I've created iHeartLoveAcademy. It's a private online community of like-minded women who are committed to celebrating the beauty and power of feminine energy to enhance their lives and their relationships.
IHeartLoveAcademy offers a variety of classes, chat, Q&A posts, and resources designed to help women cultivate their femininity and draw from its power.
Today at 3pm PT, 6 PM ET, I will host a live class where we can connect, discuss our experiences, and learn more about cultivating Feminine Energy in our lives. (replays always available!)
Why not get my support, the support of a group and an additional coach?
So if you're looking to unlock the potential of your Feminine Energy, I invite you to join us at the IHeartLoveAcademy. With your membership, you'll gain access to a variety of supportive resources and a safe space to learn and grow with other amazing women.
I hope you'll join us on this journey of self-discovery and self-empowerment. Let's unleash the power of our feminine energy together!

I hope to see you at iHeartLoveAcademy soon!
xoxo,
Adrienne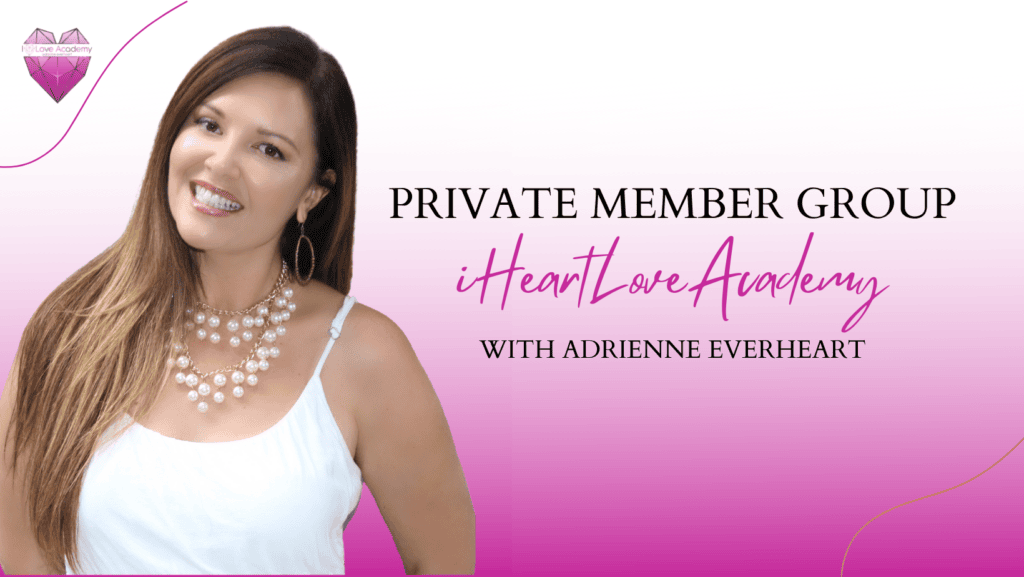 ---
Sending you love today and always,

P.S. Would you like to coach 1:1 with me privately or in a group setting? Learn more HERE.